There is nothing I like better than a bargain ,I bought these Candles for my Kitchen/Family Room table which is where we eat most of our meals .
I have a feeling that they where Christmas decorations that never sold ,most probably because of the price!
I love them because they are original and I have never seen anything similar ,I also love the price originally they where $29.95 each ,yes! that is correct so the three of them would have been $90 no way Jose would I pay that much,the good news is that they where $9.95 hmmm thats more like it.
So I bought them home and placed them on the table ,and well here is the picture .
Not even changing the angle improves them!
So I lived with them for a few weeks ,and thought about them for a few weeks ,I didn't want to diminish my happiness for the bargain that they were by paying fortune for a platter to be placed beneath them.
So today I went shopping to the local bargain store.
Three glass plates and 2kilo of river pebbles later and this is how they look now.
All up they cost me $29.85 (candles) plus $12.95(plates and stones ) Total $42.75
I think I still need more colour but overall I am ecstatic with my bargains!
I would love to hear any suggestions for some additional colour ,I am not at all keen
on ivy which I have
already considered ,far too Christmassy I think!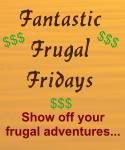 a href="http://chiconashoestringdecorating.blogspot.com/" target="_blank">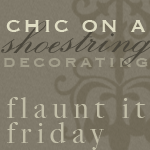 I am also off to BNOP for Metamorphis Monday
http://betweennapsontheporch.blogspot.com/2011/02/pottery-barn-bedford-office-progress.html